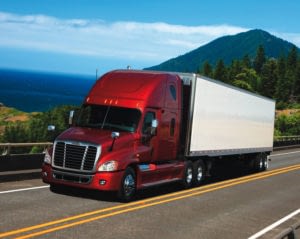 As a private carrier, you are responsible for hauling goods in your own truck for your company or employer. Whether you're working in construction, excavation, manufacturing, or any other private carrier capacity, we have truck insurance solutions for you.
Primary Liability – Every trucker/trucking company who operates under their own authority is required to carry primary liability coverage on all owned units and either provide this insurance for their leased vehicles or insure that the leased operator carries it on their own.  Generally, the motor carrier provides this coverage for the leased operators but there are rare instances when this is not the case. We handle filing your (BMC-91x) Motor carrier filings with Federal Motor Carrier Safety Administration.
Cargo Insurance – Provides coverage for loss or damage to the property a truck is transporting (the load). Generally, though not always, provided by the motor carrier for leased operators. We can do single trip load coverage policies for specialty loads and or high value loads, in addition to standard set limits. We ave many carriers with broad coverage and minimal load exclusions.
Physical Damage (Collision, Specified Perils) – Provides coverage for repair or replacement for damage resulting from a covered loss (collision, fire, theft, hail, windstorm, earthquake, flood, mischief, or vandalism) to owned vehicles.
Trailer Interchange- We provide Trailer interchange coverage fro non-owned trailers.
CMA Insurance offers free, comparative quotes on commercial trucking insurance from multiple insurance carriers so you can get the best possible rate.
Want to see how much we can save you? Just request a quote to find out.